Why does your business (or organization) need a consolidated managed file transfer application?  When working within an organization and with its partners, organizations find that
Paper-based processes are inadequate, they are labor-intensive and these paper-based processes slow down the ability to conduct business
Doing away with shipping physical media lowers their risk of losing sensitive data to theft and accidental loss
Streamlining operations so that there are fewer systems to manage and leverage the lower costs of doing business on the internet, the intranet and in the cloud
From outside an organization, regulatory mandates from agencies and governments are increasing (like PCI, HIPPA and GLBA).  Moreover, markets and business are moving faster.  Companies that can process transactions quickly (e.g., less than a second) can compete on speed and effeciency.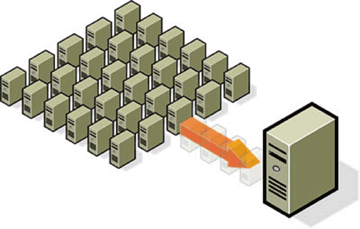 As a result, many businesses find they need one file transfer solution that addresses the needs of the entire organization.  These businesses need one application and not numerous point applications and tools from several vendors scattered throughout the organization surreptitiously poking holes in their firewalls.  They need a one-stop shop for their end users (a single, easy to learn and easy to use UI), their applications (a straightforward API) and their administrators and managers (an application that helps to increase revenue, lower their TCO and maintain their high security standards).
Remember, Managed File Transfer (MFT) is software application (or an appliance) that provides organizations of any size with a holistic solution for all their file transfer needs. Unlike point solutions for file transfer, rogue FTP servers or physical media, a consolidated MFT application means that your organization has one product and one vendor to meet all your file transfer needs.  A consolidated MFT application translates into increasing the accessibility and the trackability of your customer, partner and employee information (only for authorized users and uses).  At the same time, it increases security, reduces the risk of exposing critical data and lowers your total cost of ownership.
In addition, a consolidated MFT application means increased revenue because your sales electronically instead of by paper, fax or telephone.  Remember, a consolidated MFT application helps to integrate your applications (and your partner applications) by making it easy to exchange data programmatically.
In short, a consolidated application increases your visibility to all file transfers within your organization, it increases the speed at which you can do business (thereby increasing the revenues) by seamlessly integrating the data from all your applications and it reduces your total cost of ownership for all file transfer (data movement) applications within your organization by providing a one-stop shop for the application (from one vendor), for its web services APIs and for your teams to work with.